86 posts, I don't even want to admit how many hours, 10,000 page views (or that is what blogger says), 34 official 'followers' and many more people who send me encouraging and thoughtful words via email or phone calls. I have been blogging for 3 months now.
I read the funniest post on someone's blog yesterday. Mary Ann from
classic • casual • home
had just started blogging, you know, that beginning phase where you are checking your comments every
fifteen
five minutes (can you relate?). And she got a comment from Martha. Yes, that Martha. This is what she wrote:
"In the days after I finished my first post (when I was checking for comments every 15 minutes), I found a comment about my
Renovated Kitchen
signed by Martha Stewart. This is what it said:
Decent article.... Keep working on it. You'll get the hang of it
My thoughts reeled in the next 60 seconds...
someone is pulling my leg, hmmm
...sorta sounds like Martha -- "
decent
" article
to
But it turned out it was just a prank from her son who wanted her friends to be impressed. It is a funny post and she has a very nice blog which you can view
here
.
I found Mary Ann's blog because she left a comment on mine. I have met the nicest people that way. One of those people is Luciane from
HomeBunch
. She has left me many sweet and encouraging comments but the one she left last week topped them all. This is what she wrote:
Guess what? I just awarded you the Stylish Blogger award! See what I mean on my blog.

Have a wonderful weekend!!!

xo

Luciane at HomeBunch.com
Okay, how nice is that? This is what the
Stylish Blogger Award
is:
After receiving this award you have to pay it forward and follow the rules: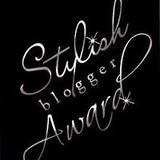 #1) Thank & link back to the person who awarded you.
#2) Share 7 things about yourself.
#3) Award 10 great bloggers that you recently discovered
#4) Contact those bloggers and tell them about the award
Isn't that the nicest thing? So let me see if I can come up with 7 things about myself you don't already know.
1. I started blogging because my daughter got married. I wanted to do a 'wedding blog' to first sell the wedding decor and then later when I decided not to sell it, to 'advertise' my services for the particular wedding venue (Newland Barn in Huntington Beach). I didn't 'get' blogging and needed my two sisters to guide and show me the ropes. No, you can't just write one post and think someone will find it!
2. I have addictions. I think I have always known this. I mean, there is that chocolate thing and the cleaning thing ... but blogging has shown me that without any doubt I have an addictive and obsessive tendency.
3. My family comes first before anything; I would do anything for my two daughters and drop everything for them. That is unless I am in the middle of writing a post, or commenting on someone's blog, or downloading photos. (Sorry girls).
4. I have been a 'decorator' since I was about 15. But I took a long and winding road to get to where I am today. My educational background is science and I worked for 25 years as a Dental Hygienist. I decorated everyone's house I knew for fun and then one day decided to become an organizer as a side job. Funny thing though, no one really wanted me to organize them; they asked me to decorate them instead. Now if I am lucky after I finish decorating and build up trust, I am allowed to go back and organize my clients. Life is good.
5. I am very passionate. My passions are for Jesus Christ, my family, my friends and design.
6. My favorite color is white.
7. I love bike-riding (always with a helmet since I fell off my bike and broke my face), gardening and reading. I am an introvert at heart and sometimes wish I could sit in front of a computer all day long and just blog.
Okay, now I am supposed to award 10 more bloggers that I recently discovered. The recently discovered part is easy because everyone is new to me! The hard part, leaving someone out and only awarding 10. And there is something else you don't know about me but I am very rebellious and I break every chain letter, email and I never send those emails back that say, send to ___ amount of people and you will get something great that will happen in so many minutes. And so here is the deal. I am going just going to share with you a few of the
many
wonderful blogs that I read. If you have been blogging awhile, most of these will not be new to you. If you are new, these are blogs you will want to add to your blog list.
Okay... drumroll ...
the 10 bloggers that I award the Stylish Blogger Award to are
:
1. Lauren Liess @
Pure Home Style
. She is my favorite design blogger. Maybe because hers is one of the first blogs I ever read but also because I love her 'pure' style, her freshness, her transparency with what she shares. Her home was featured in the December issue of BHG.
2. Maria Killam @
Color Me Happy
. I have learned so much about color, business and even great blogging tips from Maria. This is my way of thanking her for all that she has shared with me over the last year. Maria, I am excited that you are considering putting what you know into a book! It's about time.
3. My two sisters are both bloggers and have been long before I even knew what a blog was. They are my mentors, my encouragers and they have far more talent then I will ever have. One is a photographer and the other a freelance illustrator. Here are their blogs in no particular order!
Deb @
Deb's Art Blog
Patti @
Prizler Photoblog
4. Gina @
Willow Decor
Be sure to check out Gina's house - especially her butler's pantry!!!
5. Donna @
A Perfect Gray
I love Donna's style.
6. PK @
Room Remix
PK always has wonderful and informative posts. She is a must read.
7. Janell @
Isabella & Max Rooms
So much talent! Wish I was her.
8. Brooke @
Velvet & Linen
You will love Brooke's style, her store and even her husband's art.
9. Barb @
Follow My Bliss
Barb has a beautiful thought or inspiration every day. Love!
10. Annie @
Lovely Things
Annie is new to blogging - she has a great sense of style and perfection.
There are many other blogs that are award worthy and wonderful. Check out my blog roll for more of my favorites.